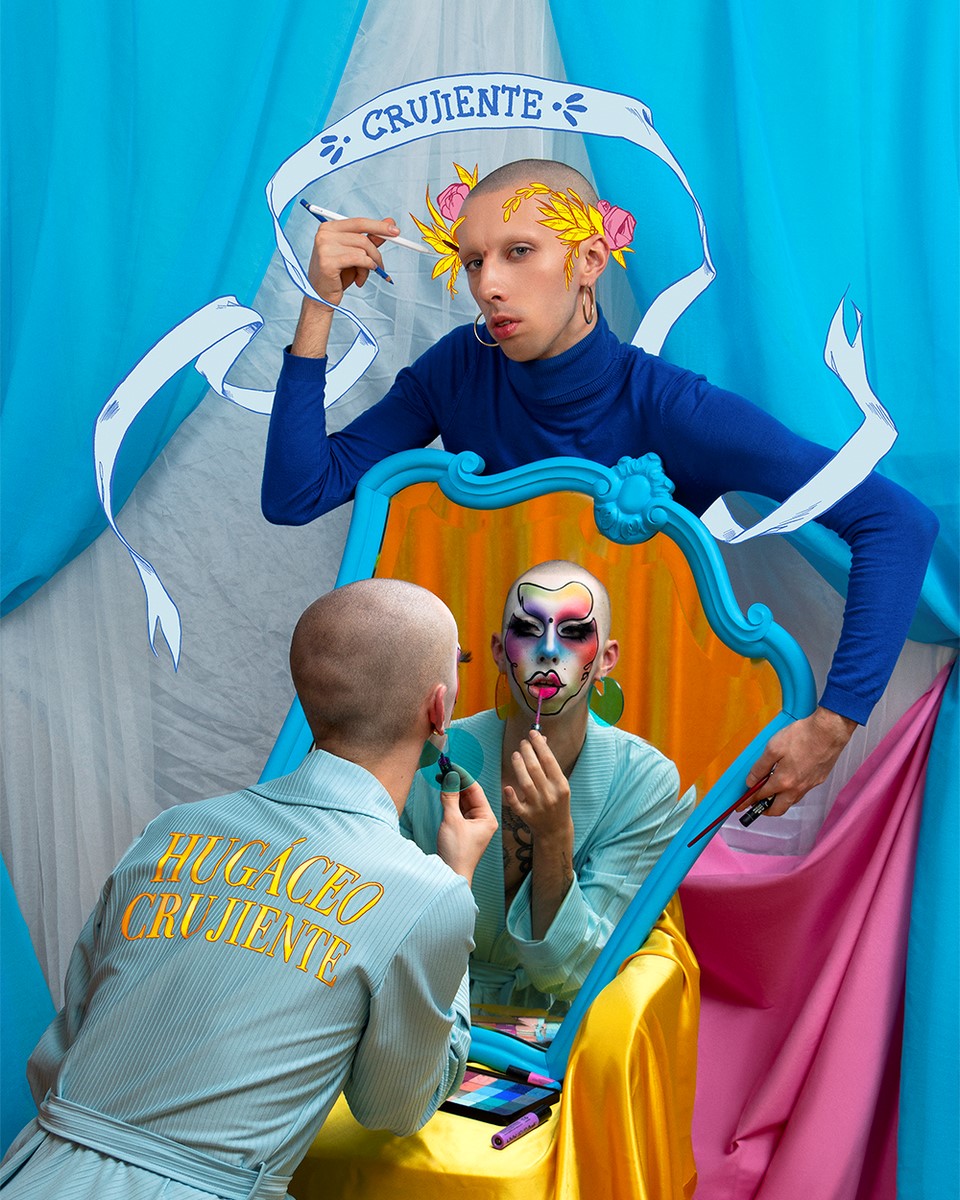 Hugo Díaz (Getafe, Spain, 1995-12-2)
a.k.a. Crujiente (He / She/ They)
He studied Bachillerato de Artes in his hometown, Getafe (IES Antonio López García), the Superior Degree of Illustration at the EASD of Segovia "Casa de los picos" in 2013, and then moved to Valencia in 2015 to study Graphic Design at the EASD of Valencia, the city where he currently resides.
Crujiente is a young multidisciplinary artist focused on illustration and drag art, touching also mural art, graphic design, video, theater, performance… that stands out for a vision on sexuality and genders very open, with fusions of color and baroque, also inspired by art nouveau, studying classic myths to reinvent them or give visibility to stories not so told. She poses scenes with a high sense of aesthetics, beauty, taking into account the inclusion of non-normative bodies, variety of races and gender identities in the characters she creates, conveying a message of equality necessary for the acceptance of all kinds of people. Careful details, evident expressions through faces and hands, flat colors, dynamic and very elaborate compositions define the aesthetics of his work.
He began his career with the alias "TheHugo", with which he developed his style, influenced by the branches of graphic design and fashion, and later, in 2021, after developing his alter ego drag "Hugáceo Crujiente" for a year, he decided to merge both disciplines as far as the artistic name is concerned, being "Crujiente" the plastic artist, and "Hugáceo Crujiente" the theatrical and performative character.
He creates original work primarily in ink, graphite, colored pencils and spray with stencil. When making reproductions of his work, he creates specific pieces taking into account the type of technique to be applied for the reproduction (silkscreen, giclée, risography or digital printing among others).
He has exhibited his work individually and collectively in several cities in Spain, crossing the Atlantic in 2019 by exhibiting at Art Gaysel in Miami, and has created illustrations and animations for GayTimes or Netflix Spain among others.
His drag alter ego, Hugáceo Crujiente, is an elevated expression of his persona and creativity, capturing colors, shapes, lines and silhouettes to his face and body to generate a striking visual punch, taking him to a pop aesthetic inspired by the Club Kid movement, in which normative beauty is completely avoided, to create unique scenes and characters.
Exhibitions / Events
"Art Gaysel" Group Exhibition at Gaythering Hotel, Miami. December 2019
"Creative Mornings". Group exhibition and intervention in Yego motorcycle helmet in Colector Valencia. December 2019.
"Juventuts Trans –formadores. Més enllà del binarisme." Talk with the Consell Valencià de la Joventut. Valencia. July 2019.
"Orgullo Hellín 2019". Mural Intervention. Hellín, Albacete. June 2019.
"Nosaltres també". Group Exhibition at the Fira del Llibre de València.
"Entre Líneas".Group exhibition on LGTBI literature. Berkana Bookstore, Madrid. March 2019.
"God is Queer". Solo exhibition at Mamut Concept Store, Valencia. November 2018.
"Musa". Group exhibition at Bacanal Café, Barcelona. April 2018.
"A contrapedal". Group exhibition at Pepita Lumier, Valencia. April 2018.
"Unfollow". Group Exhibition at The Rubias Studio, Valencia. December 2017.
"Sobre Formas". Group exhibition at Radio City, Valencia. November 2017.
"Take Away Art". Exhibition and collective sale in Tapinería Market, Valencia. March 2017.
"Cómic Social". Collective Exhibition of the Comic "Somos Súper – Historias de superación". EASD Valencia. February 2017.
"De dos en dos". Solo Exhibition at Maracaibo Café, Valencia. January 2016.
"Curvas". Group Exhibition at Bar Azabache, Segovia. June 2014.